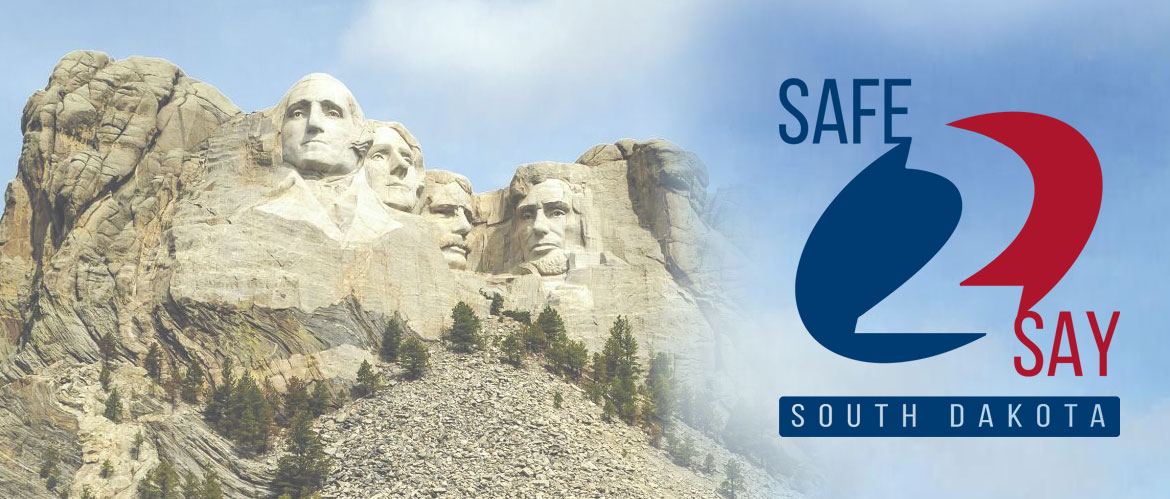 Safe2Say South Dakota
Safe2Say South Dakota is a statewide tip line that allows South Dakota students, school staff, and community members to safely and anonymously report sensitive information that concerns their safety, or the safety of others, including mental health concerns.
SUBMIT A TIP BY CALLING 1-844-373-7233
TIP FOLLOW-UP:
Click here
How it Works
Safe2Say South Dakota operates 24 hours a day, 7 days a week. Anyone with information about a potentially dangerous situation can call the toll-free number at 1-844-3SD-SAFE/1-844-373-7233, make a web report by clicking the Submit a Tip Online button, or by downloading the mobile app and making a report from a smartphone or digital device.
A trained Safe2Say analyst will interact with the person reporting the safety concerns and forward the information to a multi-disciplinary team consisting of school officials, law enforcement, and mental health professionals. Safe2Say South Dakota was created to ensure that South Dakota schools and students remain safe. With Safe2Say South Dakota, our schools and communities are able to anonymously report student safety concerns in a safe and secure fashion.
Why Say Something
Research on those willing to do harm to themselves or others is startling. We know that in over 80 percent of school shootings, someone other than the attacker knew, but failed to report it. We also know that four out of five teens who have attempted suicide, have given clear warning signals that go unreported, and in the majority of cases, teens with mental health needs do not receive needed care.
Safe2Say South Dakota Mission
Our goal is to create a climate where students feel comfortable sharing sensitive information about a potentially dangerous or threatening situation, with a focus on early intervention and prevention.
Get Involved
Safe2Say South Dakota encourages you to come forward as soon as you think there is a threat to you, someone you know, your school, or hometown. When you see something, say something, with an anonymous tip that can bring much-needed help, any time, any day.